Higgs Fletcher & Mack Awards Fourth $4,500 Diversity Scholarship to California Western School of Law Student
– Beshoy F. Shehata selected for demonstrating ethical, civic leadership –
SAN DIEGO – April 12, 2016 – Higgs Fletcher & Mack, a San Diego-based, full-service law firm for more than 75 years, announced it awarded its fourth $4,500 California Western School of Law Diversity Scholarship to Beshoy F. Shehata.
A 2017 Juris Doctor candidate, Shehata was selected for demonstrating ethical and civic leadership and for providing services to underrepresented groups in the community.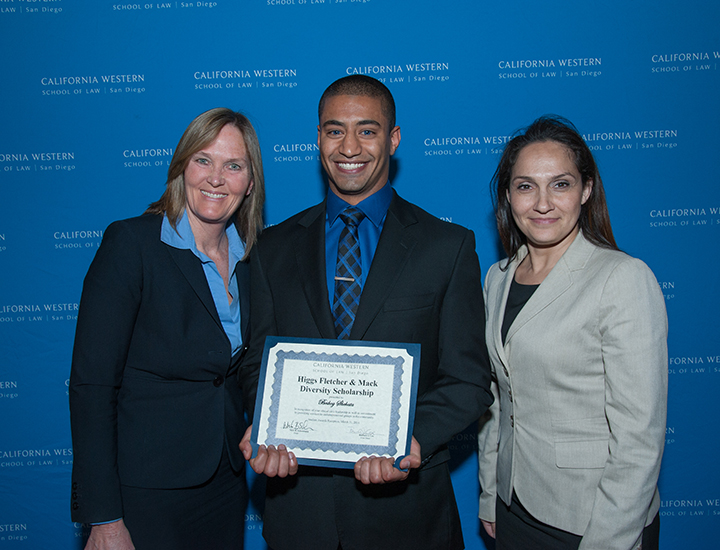 "At Higgs, we have a commitment to education and promoting diversity throughout the legal community. The firm has always been a trailblazer in diversity efforts and Beshoy is more than deserving of this award," said Rahil Swigart, member of the Higgs Fletcher & Mack Diversity Committee and California Western School of Law alum. "This is our fourth year providing the scholarship to California Western and it wouldn't be possible without the numerous attorneys at the firm who contributed."
Higgs Fletcher & Mack has provided scholarships to students at California Western School of Law since 2013 to help lessen the financial burden of law students in need. Headed by Higgs' Diversity Committee, the firm and its contributing attorneys have awarded more than $60,000 in scholarships to both USD and California Western School of Law as well as implemented a number of initiatives that not only provide financial support, but also allow for direct experience through internships and mentorship programs.
Shehata grew up in Cairo Egypt and at age 10, his family moved to the U.S. to avoid religious persecution. When he first arrived, Shehata had minimal knowledge of the English language, which made learning difficult. However, he has successfully become the first college graduate in his family. Law has always been Shehata's passion. Because of his background, his goals are to protect the public and advocate for the weak. Shehata received his Bachelor of Arts in Liberal Studies and International Peace Studies from University of California Santa Barbara.
The Higgs Fletcher & Mack attorneys that participated in funding this year's California Western School of Law scholarship include: Roger Clayton, Steve Cologne, Gerissa Conforti, Brian Cook, Mitchell Dubick, Thomas Ferrell, Loren Feestone, Joseph Gonnella, Susan Hack, James Harrigan, Craig Higgs, Scott Ingold, Rachel James, Joseph Kagan, Regina Knoll, Kathryn Martin, Susan Mercure, Rachel Moffitt, John Morrell, John Nielsen, Stephen Pelletier, Rahil Swigart and Timothy Waters.
###